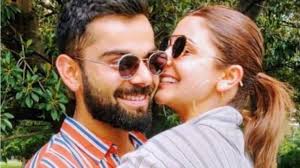 Description: Here is interesting detail about Virat Kohli and Anushka Sharma's complete love story including a love affair, wedding in Italy, honeymoon in Finland, reception in Mumbai.
The love affair between cricketers and Bollywood actresses is not a thing of the past. There are numerous examples of such couples. Some even went ahead to get married and enjoy their life together. Sharmila Tagore- Nawab of Pataudi and Azharuddin- Sangeeta Bijlani are among such names. Yuvraj Singh-Kim Sharma and Zaheer Khan- Isha Sharvani are among the few pairs who were in a relationship for a long time. But now the latest couple who is following this trend is Virat Kohli and Anushka Sharma. Though they tout themselves to be only just friends, there is something more brewing between them. Click to know about the Interesting chemistry of the couples of Bollywood.
Starting of the love affair of Virat and Anushka: Virat Kohli is one of the most promising Indian cricketers and has made the fans happy with his skills. He was the captain of the Indian team for the Asia Cup. Born to Saroj Kohli and Prem Kohli in New Delhi this cricketer has many more things to achieve. While on the other hand, Anushka Sharma is a former model and currently one of the contemporary Indian actresses. She was born and brought up in Bangalore. Both of them did a promotional shoot for a shampoo brand together. And after that, they were seen together many times. The recent meetings of Virat Kohli have created a buzz in the media that he is Anushka Sharma's boyfriend. Virat has not said anything related to this matter. Click to know how to get a fit body like Karina Kapoor?
During a recent chat show hosted by Karan Johar, she was asked about Virat Kohli and her affair. Though she did not admit anything but was found blushing and smiling whenever Virat's name was taken. She was also criticized for the lip job that she did which was evidently visible during the chat. Comments like joker's lips were posted on the popular social networking sites. On this matter rumored Virat Kohli became a bit furious and said to the media it is her private matter and should not be raised in public.
Anushka Sharma flew New Zealand to meet Virat Kohli and was spotted in Auckland spending some quality time. Virat was there for his cricket series. Anushka was seen enjoying the match between India and New Zealand. Love is blooming between them, but both are denying it. This rumored relationship is the current buzz and has increased the popularity of Virat Kohli immensely. He has toppled Ms. Dhoni from the popularity charts list and gained online popularity.
During the opening night of the Indian Premier League, Shahrukh Khan pulled Virat legs. He called Virat on stage and asked her to choose his bride; he ended up selecting Anushka's picture. On the stage, he also revealed more secrets. He admitted to carrying a photo of Anushka Sharma in his wallet. Virat on his return from UAE playing the first part of IPL7 went Jodhpur to celebrate the birthday of his alleged girlfriend. In spite of their busy schedules, they always find time for each other. The thing for which all their fans are awaiting is that when they both would admit their relationship official.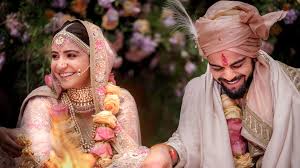 Virat and Anuska's Wedding in Italy: Filmfare magazine finally confirmed that Virat Kohli, the Indian cricket team's captain, and Bollywood actress Anushka Sharma tied the knot on 11 December 2018.
Virat Kohli announced through social media, "Today we have promised each other to be bound in love forever. We are truly blessed to share the news with you. This beautiful day will be made more special with the love and support of our family of fans & well-wishers. Thank you for being such an i .
Anuska also announced, "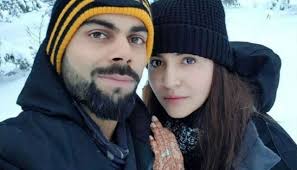 Honeymoon of Virat and Anushka in Finland: The newly wedded couple took off for their honeymoon. The initial reports indicated that the couple had taken to Rome, but it was later revealed that the couple was in Finland. Anushka also posted photos and videos from their honeymoon destination.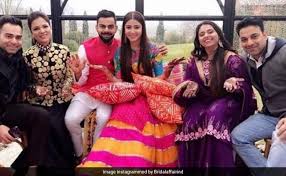 Biggest wedding Reception of Virat and Anushka in Mumbai: On December 21, Virat Kohli held a grand wedding reception party in Mumbai. It was the blending place for the Indian cricket world and Bollywood Glamour.
Click to know about the secrets of Alia Bhatt's beauty.
Keywords: love affair of Virat and Anushka, Virat and Anuska's Wedding in Italy, Honeymoon of Virat and Anushka in Finland, Biggest wedding Reception of Virat and Anushka in Mumbai, the love story of Virat Kohli and Anushka Sharma,